What Every Spring Homeowner Should Know About Termite Control
8/17/2022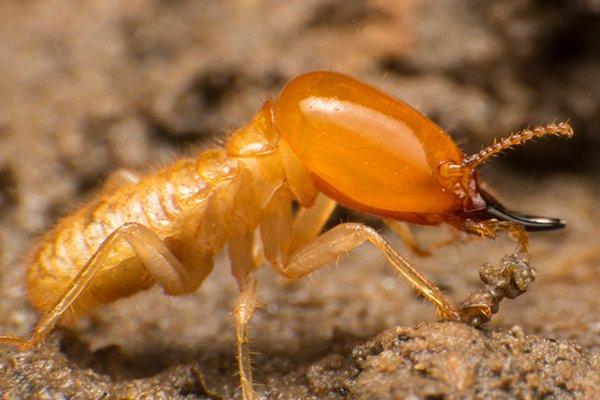 Here in Texas, we deal with termite activity all year long. Why? Because our humid, subtropical climate makes Spring conducive to termites, and that exposes local property owners to the threat of termite infestation. Infestation leads to termite damage, and household termite damage is a serious nightmare for any property owner.
These wood-eating destroyers can cause large-scale, costly damage, and you should not ignore their presence. That's why, if you own a home in Spring, it's imperative to address your termite control needs. The experts at Modern Pest Control are here to bring local homeowners quality Spring termite control you can trust.
The Dreaded Mud Tubes Running Along Your Foundation
Detecting termite activity in Spring, TX at its earliest stages is one of the best ways to get ahead of the problem. It allows you to stop the spread of the infestation and minimize the scope of the damage. The first step is knowing how to tell if your home has termites in the first place. There are some common signs of termite infestation to be on the lookout for to help you in your termite activity detection efforts.
One of the most obvious signs is the presence of mud tubes running along your soil and up toward the side of your house. We get calls from customers who have noticed wood structures with maze-like designs. Sometimes they see gallery tunnels running through the drywall. Oftentimes, customers spot mud tubes in the ground traveling to openings along the home's foundation. These are sure signs of termite activity.
Why do termites make these mud tubes? As cellulose-feeders, termites eat common construction materials that make up the structure of your property. To access your house, they use saliva and mud to build pathways that lead up to your home. Once they get close enough, they eat away at moisture-damaged wood around your property, threatening the structural integrity over time.
Aside from the presence of mud tubes running along your foundation, there are a number of other signs to be conscious of when checking for termites. Here are some common indications of termite activity to be aware of around your Spring home:
Active termite swarmers flying around doorways, walls, windows, etc.

Ceilings and walls that buckle, and crumbling windowsills

Discovering signs of water damage to wood or other structural elements

Drooping drywall, loose tiles, and painted walls that bubble and peel

Hearing excessively squeaky floors that make noise whenever you walk around

Noticing hollow noises when tapping or knocking on wood

Small tapping sounds or clicking noises coming from inside the walls

The presence of damp, damaged, rotting, or weakened wood

Tightly-fitted doors and windows that are hard to open and close

Visible cracks and crevices along the foundation

Wings discarded on the floor near doors and windows (from termite swarmers)

Worker termites in the soil. They are translucent, which makes them look like white ants.
If you think there may be termites on your property, the best thing to do is take action right away. Even if you don't notice any of these signs, being proactive in your prevention efforts is a great way to tackle your termite control needs effectively. Taking precautions always beats the alternative, which is suffering from termite damage.
How Much Damage Can Termites Cause
If you think about the size of termites compared with the scope of the damage they can cause, it's pretty astounding. These small pests can cause colossal property damage. As cellulose-feeders, termites eat common construction materials that make up the structure of your home. They eat and burrow through wood, creating intricate pathways called gallery tunnels in which they nest and travel from site to site.
As they feed on the construction, they compromise the integrity of the structure, weakening the building over time. This compromises the safety of you and your loved ones, and as the infestation spreads, the results can be detrimental.
Financially speaking, termite damage is very costly, especially considering the fact that most homeowners' insurance plans don't even cover it. The N.P.M.A. (National Pest Management Association) estimates that U.S. home and business owners spend around five billion dollars annually on termite repair and prevention costs. Termite damage costs the average homeowner around $3,000. That's a lot of money, which is why it's a good idea to be as proactive as possible in your prevention efforts.
Four Things Every Homeowner Ought To Know About Termites
As we've established, termites can destroy your home and compromise your safety. That's why being as knowledgeable as possible about termites is a great place to start in protecting your house from termite infestation. Here are four things every homeowner ought to know about termites:
Termites are the "silent destroyers" of the pest world. They feed on wood and other construction materials like plaster and siding, making their way into the core of your house and threatening its structural integrity. The unpredictable structural damage puts you at risk for all kinds of accidents.

Termites are moisture pests. Not only do they depend on water to survive, but they produce moisture when they feed, so reducing sources of moisture in and around your home can help you avoid a termite infestation.

There are many different signs that indicate the presence of termites. General symptoms of moisture damage are usually indicative of termite activity. In fact, moisture damage and termite infestation go hand-in-hand. Moisture also attracts all kinds of other pests, so if you do have water damage, you are vulnerable to all types of infestation.

When it comes to preventing termites around your Spring home, eliminating attractants and conducive conditions around the house can benefit your termite control efforts. Not only must you reduce sources of excess water, but you should also minimize entry points and access to food sources.
Preventative efforts can assist you greatly in minimizing your exposure to termites. However, the truth is that no matter how diligent you are, a termite infestation can be hard to detect and even more difficult to control. The only guaranteed way to protect your Spring home and your loved ones is to secure ongoing services from a team of highly experienced pest professionals.
Why Not Calling The Termite Professionals Is A Big Mistake
Here at Modern Pest Control, our professional termite solutions give you the protection you and your loved ones deserve. We keep you guarded against these wood-eaters all year long, giving you the guaranteed coverage that you just can't get without help from the experts. Only a team of pest professionals can bring you the type of large-scale, tried-and-true termite treatments that you're looking for in the long run.
Our termite control process is thorough and customized. We start with a full inspection in which our team of licensed pest technicians walks through the property to get a better idea of the problem. A typical termite inspection involves the following:
Assess the damage to determine the right plan of action

Check the interior and exterior of your home

Check the shingles, the roof, fascia boards, and eaves

Detect entry points and conducive conditions

Identify signs of termite activity and termite damage

Look for any damage in support beams, sills, and floor jousts
The overall goal of our initial termite inspection is to accurately detect active termite populations and any signs indicating termite activity. We'll look for any signs of feeding or damage to wood. We also look out for things like fecal matter, discarded wings, mud tubes, damaged wood, etc.
Whatever the nature of your termite infestation, Modern Pest Control is here to help. We address all kinds of termite problems, and our process entails the following:
Inspection – Our process begins with a thorough walk-through of the property's interior and exterior. One of our licensed pest control technicians arrives at your home to conduct a full interior and exterior inspection, looking for signs of termite activity as well as entry points, conducive conditions, and active areas. After we finish inspecting the premises and detecting the scope of the infestation, we develop a customized treatment strategy to effectively tackle your termite problems from the inside out.

Service – Our treatments are customized to meet the needs of the individual customer, their specific property, and the level of infestation in their home. We install Sentricon® stations at precise intervals around your property. The Recruit HD termite bait attracts termites, causing them to leave a scent trail that draws the rest of their colony. They take this bait back to their colonies, effectively eliminating the population.

Follow-Up – After we finish treating your property from top to bottom to address your infestation effectively, we come back for re-services to make sure things stay pest-free throughout the year. We use the Sentricon® System to monitor your property for any new termite activity. Throughout the entire process, we work hard to bring you an unparalleled level of customer satisfaction.
We're here to deliver termite-free results you can depend on from start to finish. Our team takes care of termites in the home, and the lawn, wood, and soil using trusted brand name products like Sentricon® to bring you guaranteed results.
Sentricon® is a green product that wipes out termite colonies using minimally active ingredients, and it's our preferred method of treatment. There are a variety of benefits to the Sentricon® System, and we're proud to offer this safe, effective technology to successfully exterminate termites from your home and protect you from the perils of infestation:
Sentricon® Installation
We place Sentricon® stations in the soil throughout your property

Targets the foraging nature of termite workers

Stations filled with Recruit HD termite bait food sources to attract termites

Termites leave scent trails to summon the rest of the colony

Baits are taken back to the colony and eliminate all termites, including the Queen
Ongoing Termite Protection
Sentricon® systems monitor the property for new termite activity

Continuous protection from these destructive wood-eating pests
Whether you're dealing with a large-scale termite infestation or a smaller problem, we're here to tackle the situation in the thorough way that only the pest professionals can. All of our treatments are customizable to meet your needs because your satisfaction is the most important thing. The Texas Department of Agriculture licenses us, and all of our pest management professionals undergo rigorous training so we can provide you with the very best.
While there are a variety of at-home treatments and prevention methods that you can test out, the truth is that if you want guaranteed protection from termite activity all year round, there's no method as effective as professional pest protection. That's where we come in, and that's why we work hard to provide you with the comprehensive termite control services you need.
Modern Pest Control offers comprehensive residential and commercial termite solutions that proud Texans can rely on throughout the year. There is no infestation too big or too small for us to tackle. We have over 65 years of industry experience, and as a Quality Pro Service provider, we bring a high level of professionalism and expertise to every job we do.
Our team works alongside organizations such as B.O.M.A. (Building Owners and Managers Association), the Greater Houston Restaurant Association, and the U.S. Green Building Council. Professionals from the Food Industry Sanitation Auditors (F.I.S.A.) and the American Institute of Baking (A.I.B.) train our staff, giving us a high level of expertise for pest issues in food handling facilities.
Since 1952, our independently owned and operated company has remained committed to efficient and effective pest solutions that bring our valued customers the protection they deserve. Our philosophy is to deliver prompt, personalized pest control using the latest pest control strategies and methods.
Our services are proven to last, and we always stand by the work that we do. We use advanced pest control methods and dependable I.P.M. (Integrated Pest Management) strategies to bring you the latest and greatest in Texas pest control. Contact Modern Pest Control today for the best source of termite control and prevention in the Houston area. Our team of experienced pest professionals guarantees complete protection from termite infestation and the severe consequences that comes with it. Give us a call today.