Houston Pest Control Services
Houston is a popular Texas locale to visit, but also to put down roots and live in. As an energetic city keeping up with the fast pace of modern life, Houston offers beautiful scenery, diverse neighborhoods, and a lively economy. The many homes, businesses, and outdoor spaces found in Houston are a blessing for its residents, but are also perfect for many critters (insects and rodents) as well.
To protect your Houston residential or commercial property from Texas pests choose the pest control company that has deep Houston roots. At Modern Pest Control our professionals know the pests that are common in the Greater Houston area and how to eliminate them using the latest technology and modern pest control measures. To get started protecting your property from the threats posed by Texas pests, give us a call at Modern Pest Control today!
Residential Pest Control Services In Houston, TX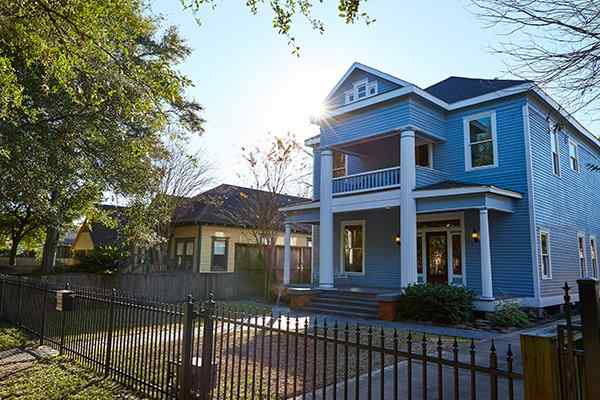 The weather found in the Houston area remains fairly mild most of the year and temperatures rarely drop below freezing. This mild weather allows for most insects and rodents living in the area to remain active year round; and because pests are active year round, so should your home's pest control service.
The best way to protect your yard, home, and family from pests is to put into place a year-round home pest control service. At Modern we offer our customers a choice of three different home pest control services to choose from.
Our Modern Service Plus option offers the following:
Quarterly Pest Service

Our Service Guarantee - If a pest that is covered starts causing problems between service visits, we will return to solve the problem at no additional charge.

Year-Round Protection from ants (excluding crazy ants and carpenter ants), roaches, silverfish, crickets, millipedes, pillbugs, and earwigs

In-the-yard control of fleas, fire ants, and spiders
Our Signature service option includes everything from Modern Service Plus, and adds termite control, while our Signature Plus service option offers pest control, termite control, and seasonal mosquito control.
Commercial Pest Control In Houston, TX
To protect your Houston business from being overrun with insects and rodents instead of customers, partner with Modern Pest Control. We have a vast amount of experience protecting a wide variety of Houston businesses and industries from pests. Through inspections, treatment, physical alterations, monitoring stations, and more, our highly trained professionals will ensure that your business becomes and stays free of Houston pests.
To ensure that you always have a good understanding of exactly what is happening inside of your business we offer our commercial customers access to their company's online pest control logs and records 24/7. Another benefit of choosing Modern Pest Control for your Houston business's pest control needs is that we will always develop a modern, custom approach to pest control that meets your business's specific needs and always takes industry regulations into account. To start protecting your Houston business from pests with the help of the area's commercial pest control experts - call us at Modern Pest Control today!
Protect Your Houston, TX Property From Termites
Like many other pests living in Texas, termites are a year-round problem, but unlike many other nuisance pests, termites are a very damaging pest that can cause severe structural damages inside of your Texas home or business if they are not eliminated and prevented against. To protect your property against termites our professionals inspect your property and then install the very environmentally friendly Sentricon® System with Always Active™. Sentricon® with Always Active™ works very effectively to eliminate a current infestation and to keep future termites from being able to invade your home or business.
Bait stations are placed discreetly around your property and are filled with Recruit HD bait which is highly attractive to termites. The termites immediately begin feeding on the bait, leaving behind a scent trail that will attract other members. In addition, the foraging termites introduce the bait back to the colony- very effectively eliminating every single member of the colony. Once the infestation is eliminated the Sentricon® System with Always Active™ remains in place on your property to monitor for future activity and to prevent a future infestation from occurring.
Trust Modern Pest Control and this Presidential Green Chemistry Award winner to protect your property from wood-eating termites!
Flea Prevention Tips For Houston, TX Residents
Fleas are a problematic pest for both people and our pets to have to deal with. Fleas, do not necessarily seek out humans to feed on, but if given the opportunity will bite us and have the potential to not only leave behind very itchy bites, but to transmit serious diseases and parasites as well. In most cases, fleas are a much more serious issue for our pets. Fleas will happily live in their fur, feeding and breeding, and if an infestation is not treated it can affect humans with anemia, skin irritations, and tapeworms.
To keep fleas off of your property, out of your home, and away from you, your family, and pets, Modern Pest Control offers the following prevention tips:
Six Steps Toward Flea Prevention
Under the guidance of your pet's veterinarian, make sure that they are treated with a flea preventative year-round.

Before allowing your pets inside after spending time outside, using a flea comb to inspect their fur for fleas.

After spending time outside inspect your shoes and clothing for fleas.

Keep your property's grass trimmed short and remove piles of debris from your property.

If possible do not introduce used furniture or rugs into your home. Unbeknownst to you, they could be infested with flea adults, eggs, or larvae.

Remove wild animal feeders from your property, wild animals are often the culprits that have introduced these parasitic pests to your property in the first place.
If fleas are a problem on your property, contact us today at Modern Pest Control. We can help control populations on your property through our home pest control services.

Schedule Your Free Inspection
Complete the form below to schedule your no obligation inspection.