Experienced Pest Control Services In Katy, TX
While often considered a suburb of Houston, Katy is a small Texas community that feels a lot further away from city life than it appears on the map. But even small bedroom communities can have a lot of pest activity, which is why locals need to learn how proper pest control can wind up saving them a lot of time and money in the long run. Learn how Modern Pest Control can help.
Residential Pest Control Services In Katy, TX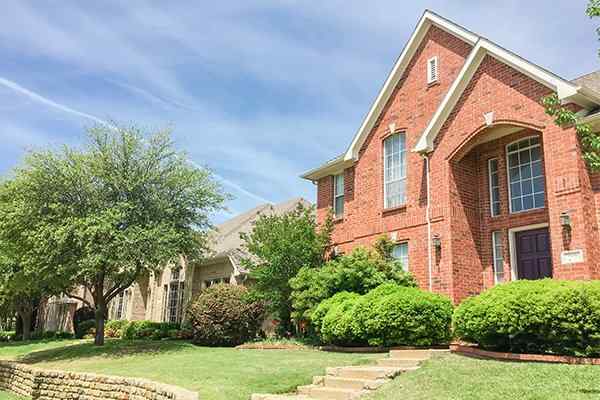 The many pests that call Katy home take every opportunity that they can to enter inside of homes and gain access to free food, water, and shelter. Keep pests outside where they belong, and away from your family and pets, with the help of Modern's year-round residential pest control services.
At Modern Pest Control, we offer three different residential pest control plans to help ensure that you get the services you need to keep your unique home free of pests. All of our residential pest control plans are guaranteed - if a pest that is covered by your program becomes a problem between services, your technician will come back to take care of those issues at no additional cost to you.
Modern Plus - This plan provides quarterly pest control treatment for your home, garage, and the immediate perimeter against the most common household pests. This home pest control plan also includes exterior cobweb removal under 12 feet, rodent monitoring in your attic (inspection only), and yard treatments that target fire ants and fleas.

Signature - The Signature plan is our most popular, and provides everything that is in the above Modern Plus plan in addition to termite control through the installation of the Sentricon® Termite Colony Elimination System with Always Active™ technology.

Signature Plus - This is our most inclusive program and includes everything that is in the Signature plan, plus monthly mosquito treatments from April through October.
In addition to our year-round residential pest control plans, we offer the following pest control services to help eliminate specific pests from your home and property: ant control, bee control, mosquito control, rodent and wildlife control, and lawn pest control.
Commercial Pest Control In Katy, TX
At Modern Pest Control, we have made it our mission to protect Katy businesses from being damaged by pests. We provide the services that you need to protect your facility, customers, employees, and reputation from pests. We have experience providing commercial pest control services to many industries, including: property management, restaurants, multi-unit housing, hotels and commercial lodging, food processing facilities, and more!
By choosing us to take care of your commercial facilities pest control needs you will receive the following benefits:
A custom plan that is specific to your property and industry which successfully treats current pest problems and prevents future problems.

A visual inspection of your facility and grounds by one of our highly trained professionals.

The installation of pest monitoring devices.

Online access to your facility's pest control logs and records.
Termite Control In Katy, TX
Termites are a serious problem in Texas. Protecting your home from these wood-destroying pests is very important to keeping the structural integrity of your home intact. The professionals at Modern understand termites and understand how to completely eliminate these damaging pests from Katy homes and properties. After a thorough inspection of your home, we will install the Sentricon System, which is filled with Recruit® HD bait. The bait is highly attractive to the termites and effectively kills every single member of the termite colony, ridding your home of the infestation. Once the infestation is eliminated, the Sentricon System remains in place on your property to monitor for future activity and prevent a future infestation from occurring.
Call today to schedule a termite inspection for your Katy property!
Mosquito Control In Katy, TX
Do you dream about enjoying your backyard without having to constantly swat away swarming mosquitoes and without having to worry about what diseases they are carrying and potentially transmitting to you, your family, and your pets? Well, with the help of Modern Pest Control, that dream can become a reality! Our mosquito control services can provide you with the treatments needed to drastically reduce the number of mosquitoes living and breeding on your Katy property.
Seasonal Mosquito Protection
During the spring and summer seasons, our trained technicians perform regular treatments to reduce the number of adult mosquitoes on your property; the treatment also works to help prevent their larvae from hatching.
Mosquito Misting System
Through the installation of the CoastMister, we can provide year-round, long-term control against mosquito populations on your property.
One-Time Mosquito Treatment
Our one-time mosquito treatment is the perfect way to reduce mosquito activity before a large outdoor event.
Contact the mosquito control experts at Modern Pest Control today and let us help you determine which mosquito treatment is right for your Katy property!
Earwig Prevention Tips Every Katy Resident Should Know
While earwigs aren't as scary or dangerous as people often make them out to be, they can be pretty common pests for homeowners to encounter. Usually, they are garden pests that can ruin decorative plants and attract other pests that hunt them. But they can also make it indoors, and crawl over your food and countertops. That's why you should get started on these steps early, even before an infestation is obvious:
Landscaping: Because earwigs are yard pests, they will be drawn to properties with overgrown grasses and lots of bushes or other plants in which they can feed or nest. This is why proper yard maintenance is so crucial.

Access Points: Earwigs can fit through small spaces in order to access a home, which is why you should regularly check your window screens for tears, your doors for gaps or spaces, and your exterior walls for cracks or holes.

Treatments: The most effective way to keep pests of all kinds out of your home is with professional treatments of your exterior. Turn to Modern Pest Control today to get started.
How You May Be Underestimating Fleas In Katy
It can be easy to assume that fleas are only a problem for animals or homes with pets. But these parasitic pests will feed on the blood of any animal that's around -- including humans. That's why you should never underestimate the threats that fleas can pose to your Katy property. Not only are they small and tough to spot, they quickly grow their numbers. People can wind up with itchy bite marks all over their bodies if they don't act fast. It's always better to turn to the experts for guidance on avoiding parasitic pests and eliminating them before they turn into full-blown health hazards. At Modern Pest Control, we have experience dealing with fleas and other tiny parasites. Not only can we get rid of existing pest problems, but we can also give you guidance for ways to avoid future infestations and protect your property against all kinds of invasive pests. Contact Modern Pest Control today.
Rodent Prevention Tips That Don't Work In Katy
A lot of people try to deal with pest problems on their own, especially rodent problems. While we understand where this impulse comes from, it can actually wind up costing you more money and not result in you avoiding the damage and disease that pests introduce to your property. That's why you should call the professionals instead of trying to do these things on your own.
Some of the downfalls of DIY rodent control include:
Traps: Store-bought traps may help you catch or kill a couple of rodents, but they won't address the ones hiding in your walls.

Baits: People try baits instead, which rodents will carry back to their nests and hopefully share with the others of a population. The problem is some baits are ineffective, and you still need to locate the specific areas where they will be most effective.

Cats: Believe it or not, lots of people assume that just because they've got a cat (or some other household pet) that rodents will never be a problem. But even if a cat kills a random mouse or two, they still won't be able to fit in the tight nesting spaces that rodents utilize to hide from predators.
Instead of trying DIY rodent control, contact Modern Pest Control today.
Ticks & Lyme Disease: What Everyone In Katy Ought To Know
No parasitic pests are exactly healthy. Bugs that feed on our blood can be nasty and lead to itchy bite marks all over our skin. But the parasites that can spread diseases are some of the most problematic, which is what makes ticks so dangerous. Not only are all ticks capable of biting people and pets, but they can also carry diseases. The most notable illness that ticks carry is Lyme disease, which is categorized by fever, joint pain, and rash on the skin. While people tend to think that Lyme disease originates with ticks themselves, its origins likely come from a woodland animal that they feed on. Instead, ticks are such common carriers because they feed on the infected blood of one animal and then transmit the disease to another. We call these kinds of pests -- ones that aid the spread of diseases -- vectors. It's their status as vectors that makes ticks such dangerous pests. That's why you should turn to the experts for guidance on how to avoid ticks and quickly eliminate them from your property if you do wind up with signs of an infestation. Contact Modern Pest Control today to get started on overall tick protection.
Benefits Of Professional Ant Treatment For Katy Homes
Ants are the most common nuisance pest for Katy homeowners, and they are also one of the most difficult pests to prevent. Working with a pest control professional creates an extra layer of protection from ants while also allowing residents to live their lives. Pest control professionals will routinely apply a liquid barrier to a home's foundation and fill any cracks to provide uninterrupted coverage. Without professional help, homeowners would need to maintain a meticulous property, and even that doesn't ensure an ant-free home.
Additionally, working with a pest expert will keep you protected from the health risks that come with ants like fire ants. This species builds mounds and when the mound is disrupted, fire ants will sting, which can lead to a series of allergic reactions. Professional help can also keep your property intact and free from the damage that carpenter ants cause when they build intricate tunnels inside of your walls.
At Modern Pest Control, we provide year-round ant control services in Katy as a part of our residential pest control programs. We understand our community's need for reliability and longevity when it comes to these pests, which is why we guarantee the results on all of these services. For more information on keeping ants out of your home, contact us today.
Are You Accidentally Inviting Cockroaches Into Your Katy Home?
When a cockroach problem develops in your Katy home, it has the potential to be harmful to your health and difficult to eliminate without professional help. Roaches are notorious for spreading pathogens that lead to streptococcus infections, giardia, dysentery, and more through the body parts that they shed, saliva, and fecal matter.
The reality is that you might be inviting these issues into your home whether you're aware of that fact or not. Things like having leaks, not taking the trash out, allowing crumbs to scatter throughout the house, leaving food uncovered, not inspecting packages before bringing them inside, and even having gaps in your foundation is enough to lure cockroaches inside. Failing to address a cockroach problem in full can also create a much larger issue for you.
If you've experienced any level of cockroach activity in your home, then the best thing to do is contact Modern Pest Control. Our residential pest control offers ongoing support for these harmful pests because we know how difficult they are to both prevent and eliminate. We use safe products and methods that focus on sustainable results that we guarantee. For more information on our cockroach control services in Katy, please contact us today.
Why Spiders Enter Katy Homes & How To Keep Them Out
Spiders enter Katy homes in search of their ideal conditions as well as access to food. In this instance, conducive environments include dark, moist, and secluded areas of the home, and food can be gnats, flies, cockroaches, and other small pests. In order to keep spiders out of the home, there are a few simple yet effective tips that homeowners can follow.
Those include:
Keep closets, basements, crawl spaces, and attics free from humidity by ventilating them.

Remove excess brush and debris from the yard. Also, store firewood at least 20 feet away from the home.

Look for leaks both inside and outside of the home and fix any issues that appear. It's also crucial to make sure that shower heads are always properly turned off and that toilets don't sweat.

Insert door sweeps where they are needed and keep window screens in good condition.

Store all pantry items, grains, and leftovers in secure containers that are cleaned out between uses.

Use a trash bin that's lined with a bag and take it out before it gets filled. Check for food residue and leaks between uses.

Seek the assistance of a pest control company.
For more information on spiders in Katy and how to control them, contact Modern Pest Control today.
Problems Silverfish Cause Inside Katy Homes
Silverfish in Katy are primarily a nuisance when they enter homes. They don't contain any venom and are not known to bite people. They are, however, lured by moist conditions, which makes them very difficult to keep from becoming an issue. While they do not pose a serious issue to health, silverfish will leave behind feces that can lead to stains on bed linens and clothing. Additionally, silverfish are enticed by organic fabrics and they will eat away at silk, wool, cotton, other fibers, books, papers, and even pantry snacks. Some people even slip on silverfish around the home while these pests are slithering around on the floor.
The warm and sometimes humid climate of the area means that the most effective way to address silverfish is with routine maintenance from a pest control professional. At Modern Pest Control, we provide silverfish control as part of our most standard general pest control offering. We follow a quarterly schedule with both interior and exterior treatments, and we'll re-service at no additional cost if silverfish return between routine visits. All of the products and methods that we implement are safe for the entire household and built to be long-lasting. For more information on keeping silverfish out of your home, contact us today.

Schedule Your Free Inspection
Complete the form below to schedule your no obligation inspection.