Reliable Pest Control Services For Montgomery, TX Home & Business Owners
Montgomery is the birthplace of the Texas flag and is one of the oldest towns in Texas. This Texas town dates back to 1826 and is rich in history. Montgomery offers a great place for people not only to live but to excel in. To protect your Montgomery home from the many pests that thrive in and around the Houston area, trust the local, dedicated pest control experts at Modern Pest Control. We have over 65 years of experience protecting Houston-area communities, including Montgomery, from pests. At Modern Pest Control, our professionals protect properties from insects, rodents, and more through our customized, effective, and modern pest control services. Contact Modern Pest Control today to get started putting into place the proactive services needed to eliminate and control pests in and around your Montgomery, Texas home.
Residential Pest Control In Montgomery, TX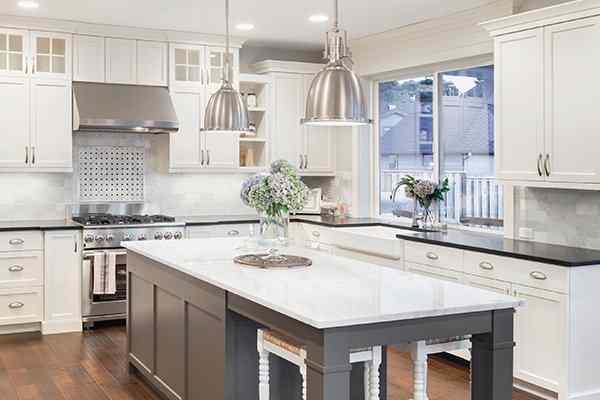 To prevent pests and the problems they bring with them, put into place a residential pest control service from the Texas pest experts at Modern Pest Control.
Our three guaranteed, affordable year-round services are as follows:
Modern Plus - Effective pest control services through quarterly pest visits.

Signature - Effective pest control services through quarterly pest visits along with the benefits of effective termite control.

Signature Plus - Effective pest control services through quarterly visits, termite control, and the control of fleas, fire ants, and spiders in the yard.
At Modern Pest Control, we believe in the services that we offer, which is why our guarantee states that if you have a problem with a pest, covered by the program, between services, give us a call and your technician will come back to take care of those issues at no additional cost to you. To learn more about how we can work together to maintain a pest-free home, get in touch with us today.
How To Avoid Ants In Montgomery, TX
There are many types of ants breeding and invading properties all across Texas. The most common ants in and around Montgomery, Texas include fire ants, rover ants, tawny crazy ants, and carpenter ants. Some are dangerous, some are damaging, but they are all a nuisance and should be eliminated from any home as soon as their presence is discovered.
To prevent ants from overtaking your home, partner with Modern Pest Control; we can implement the services needed to eliminate problematic ants inside or outside your home. Our 5-step process to get rid of ants includes inspection; cultural, mechanical, and physical controls; the development of a customized treatment plan; treatment; and of course communication and follow-up.
In addition to our professional services, implementing the following prevention tips in and around your home can help to prevent problems with ants:
Cut overgrown shrubs and bushes away from the exterior of your home.

Make sure gutters are in good working order and are directing water away from the exterior of your home.

Maintain a barrier between your home's foundation and mulch, grass, or soil.

Make sure outdoor trash cans have tight-fitting lids on them.

All exterior doors should have door sweeps.

Caulk any spaces around windows and doors and make sure all screens are completely intact.

Store food either in the refrigerator or in containers with airtight lids.
How Does Mosquito Control In Montgomery, TX Work?
At Modern Pest Control, we can protect your family and friends from the relentless attacks of mosquitoes through our professional mosquito control services. With our help, you can enjoy your outdoor space without constantly having to swat away mosquitoes or worry about the diseases they can spread through their bites. At Modern, we can provide seasonal mosquito control from April thru October when mosquitoes are most active.
Our professionals effectively control mosquito numbers using the latest products and technology to reduce adult mosquito populations on your property as well as stopping mosquito larvae from being able to hatch. If you are looking for year-round protection against mosquitoes, we can provide this very thing through the installation of the Mistaway System, a long-term mosquito-management system. This system is discrete and is programmable to help meet seasonal demands. To learn more about our professional mosquito control options, in order to take back your yard from mosquitoes, give Modern Pest Control a call today.
A Closer Look At The Damage Termites Can Cause In Montgomery, TX
Termites are destructive wood-eating pests that can cause extensive damage to any home or structure. Termites nest in and travel through the ground, this means most termite damage is going to be located on the ground levels of homes. Typically signs of their presence are most evident in and around the framing around basement windows and doors, subfloors, and supporting posts and joints.
Some typical signs of termite damage include:
Discovering tubes which are the width of a pencil running along basement and foundation walls.

Finding piles of shed termite (reproductive) wings along walkways, decks, around doorways, and under windows.

Wood which sounds hollow when you tap on it.

Walls or framing that is splintered or blistered.

Floors that are buckling.

Finding small holes on the surface of the wood in your home. The termites use these holes to push out their waste from the tunnels they are creating as they feed.
To prevent termites and their damage, the experts at Modern Pest Control highly recommend the eco-sound Sentricon® System with Always Active™. As soon as the bait stations are discreetly installed around the perimeter of your home, this eco-friendly system begins working to quickly and completely eliminate the entire termite colony from your property. Once the infestation is eliminated, Sentricon® with Always Active™ remains in place on your property to monitor for future activity and to prevent future problems with termites. To learn more about solving current termite issues on your property and preventing future problems, contact Modern Pest Control today.

Schedule Your Free Inspection
Complete the form below to schedule your no obligation inspection.