What Do Phorid Flies Look Like?
Due to their physical appearance, phorid flies are often referred to as humpbacked flies; phorid flies have an arched thorax which gives them a humpbacked appearance. They are a tiny species of fly, only growing to between 1/16th and 1/8th of an inch in length. These flies are dark brown to black in color. They also have a very recognizable short and erratic flight pattern.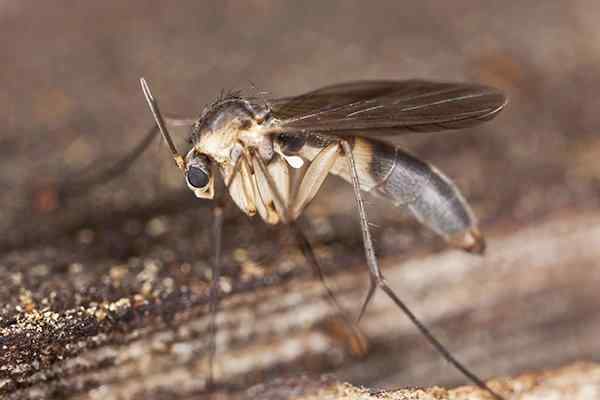 Are Phorid Flies Dangerous?
Yes, phorid flies are dangerous pests. Phorid flies can be found living, feeding, and laying their eggs on decaying organic matter including excrement and carrion; due to these habits, phorid flies come into contact with and are covered in human pathogens and bacteria. As you can imagine, phorid flies are very unsanitary and can cause serious health concerns inside homes, hospitals, restaurants, and food processing facilities.
Where Am I Likely To Find Phorid Flies?
Phorid flies often enter homes and businesses through small gaps around windows and doors, or through crack and crevices in the foundation. Once inside, these flies tend to congregate in areas where decaying organic matter can be found such as in the drains of sinks, bathtubs, and showers. In addition, if there is a water leak in your home or business behind a wall, underneath your foundation, or in a crawl space, it may attract phorid flies to your property.
Does Modern Offer Phorid Fly Control?
Yes, we do! When you contact Modern for phorid fly control in Houston, Katy, or elsewhere in our service area, a licensed pest control technician will inspect your property, determine what conditions are attracting them to your property, and then develop a plan of action that results in a phorid fly-free home or business! Visit our residential or commercial pest control page to learn more about getting rid of phorid flies or simply contact us for more information.
How Can I Prevent Phorid Fly Infestations?
Preventing problems with phorid flies on your property can be difficult, but there are a few things that you can do help prevent them from invading into your home or business.
Repair any leaky pipes, faucets, or fixtures in your home.

Make sure that gutters are directing water away from your house and are flowing freely to stop water from leaking into your home's walls.

Clean out any debris that has built up in sink drains on a regular basis.

Seal any cracks or crevices found in your foundation

Caulk any gaps found around exterior windows and doors.

If you have pets, it is important to clean up their excrement from your backyard on a regular basis.

Make sure that compost bins are placed a distance away from your home or business and have a tight-fitting lid on them.
Helpful Phorid Fly Articles