What Type Of Termite Is Most Common In The Houston, TX Area?
In the United States, subterranean termites cost property owners billions of dollars. The more you know about these wood-eating insects, the better you'll be able to protect your equity from the devastating damage they can inflict on your property. Understanding the signs of termite infestation along with termite identification will help you identify the problem before it gets out of hand. Termites have a clear caste system: the king and queen, workers, soldiers, and reproductive members.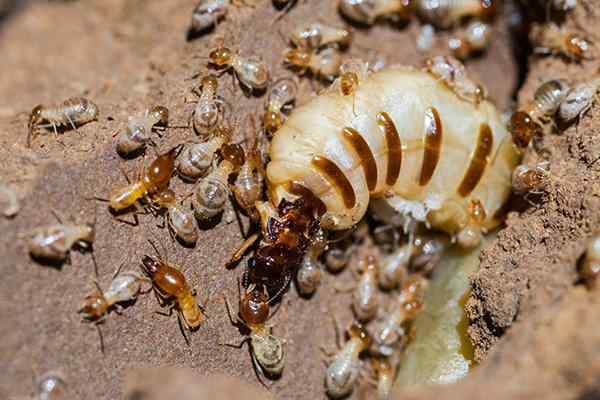 Workers
Workers make up the largest number of termites in the colony. The workers' central purpose is tunneling through wood to gather food to bring back to the colony.
What do these termites look like? Worker termites are distinguishable by their pale white body. They are blind, wingless, and grow to be about ¼ inch in length.
Soldiers
Soldiers use their strong jaws to protect the colony from threats.
What do these termites look like? The soldiers look very similar to the workers; they are a bit bigger and have an elongated yellow head, large strong jaws, and short legs.
Reproductive members
Reproductive members' of the colony or swarmers' central purpose is to expand the colony by carrying eggs to other locations. Identifying swarmers will aid an exterminator in proper termite identification.
How will reproductive members aid in termite identification? Reproductive members are most likely to be seen and are signs of a termite problem. The reproductive members of the colony are the largest members; they are winged, are dark-brown to black in color, and grow to between ¼ and ½ inch in length. Reproductives swarm from a mature colony in order to find a mate and start a new colony of their own.
Are Termites Dangerous?
Termites are not a threat to people or pets, but termites in Texas are certainly a problem for structures.
Termites do not stop feeding and attempting to grow their colonies. Unfortunately, termites eat wood from the inside out, so termite damage is not often discovered until it becomes a serious problem.
How Can I Tell The Difference Between Winged Ants And Termite Swarmers?
At first glance, winged ants and termite swarmers appear very similar in appearance. However, when you take a closer look, you'll discover a few major differences between the two that will help you identify which insect is infesting your home.
Ants have elbowed antennae while termites have antennae that are straight and shorter in length.

Ants have pinched waists while termites have thick ones

Both ants and termites have two sets of wings but the front wings of ants are longer than their back wings. Termites, on the other hand, have four wings that are all the same length.
If you've discovered winged insects in your home or business, contact us today to discuss and plan treatment options.
Our professionals at Modern Pest Control help eliminate termites in Houston and the greater metropolitan area. We have the experience and equipment to control and eliminate termites, ants, and other destructive pests.
What Are The Signs Of Termite Activity?
If you're concerned about termites infesting your house or building, look for the following signs:
Signs of termite swarmers - If reproductive swarmers are flying around or you've found discarded termite wings around window sills, you have a cause for concern.

Mud tubes - Subterranean termites need moisture to survive. To avoid prolonged exposure to elements that may dry them out, they travel from their nests to potential food sources via mud tubes. These mud tubes are about the width of a pencil and are typically found going up a home's foundation, basement walls, crawl space walls, and bathroom walls.

Termite damage - If the paint on your wall appears blistered or splintered, if you discovered walls that sound hollow when you tap on them, or if you found tunnels that resemble mazes within walls or other wood products, you have a current or previous termite problem.
How Can I Prevent Termite Infestations?
The best way to prevent termites from coming indoors is to make sure they can't get in. We recommend:
Sealing all cracks or openings along the foundation and elsewhere on the exterior,

Limiting soil to wood contact on your property,

Reducing moisture and ventilation issues that could cause wood rot,

Removing foliage and landscaping that touches the exterior of the structure, and

Replacing wood that has been damaged by water as well as repair leaking pipes and appliances.
Does Modern Offer Termite Control?
Home or business owners in Katy and throughout the greater Houston metropolitan area can count on Modern Pest Company's termite control services.
The first step towards ridding your property of these tenacious termites is to call our professionals at Modern to schedule a free inspection. One of our licensed technicians will determine the extent of the problem and work with you to develop a plan for extermination.
At Modern Pest, we service termites in Houston and the greater metropolitan area. Our termite treatment plan involves the use of Sentricon® with Always Active™ termite colony elimination system.
Please visit our termite control page for more information or contact us to discuss your termite issue.
Helpful Termite Articles
Is It Possible To Avoid Termite Damage?
What Are The Signs Of Termites In Your Houston Home?
What Does Termite Damage Look Like In Houston Homes?