Reliable Pest Control Services For Highland Village, TX Home & Business Owners
Highland Village, a city in Denton County, Texas, is located along the western branch of Lewisville Lake. This suburb is home to great people, beautiful homes, and plentiful outdoor spaces for families to enjoy. Modern Pest Control uses the latest technology and advanced methods to protect East Texas properties from pests. By partnering with Modern, you can be sure that your Houston-area home or business will be protected from a wide variety of invasive and potentially dangerous and damaging pests. To learn more about our comprehensive pest control services, call us today and speak with one of our experienced professionals.
Residential Pest Control In Highland Village, TX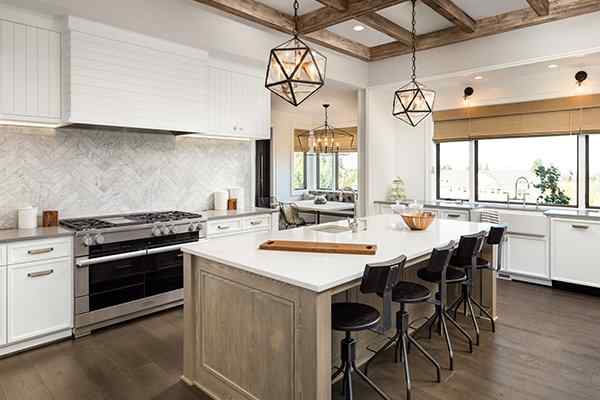 Keep your home free of pests that are a threat throughout the entire year in Highland Village with the help of the experienced and local professionals at Modern Pest Control. We understand just how stressful pests living in your home can be and will provide fast and complete relief. Our professionals don't just eliminate pests, they deliver peace of mind!
Modern Pest Control offers 3 different year-round pest control options to meet homeowners' unique needs. Our Signature Plus service is our most comprehensive service. It provides quarterly pest control service visits and protects against common household pests, wood-destroying termites, and mosquitoes through monthly treatments (April-October).
To learn more about our effective and affordable home pest control services or to request a free inspection for your Highland Village home, reach out to the professionals at Modern Pest Control today.
How To Minimize Mosquitoes In Highland Village, TX
Minimize mosquito numbers on your property and maximize the amount of time you can spend enjoying your outdoor space! Mosquitoes living and breeding on your property can make spending time in your own backyard an unpleasant experience. To reduce mosquito populations in the Houston area, Modern Pest Control provides seasonal mosquito control from April thru October, when mosquitoes are most active.
Modern Pest Control reduces mosquito numbers using the latest products and technology, shrinking down adult mosquito populations as well as preventing mosquito larvae from hatching. For year-round protection against mosquitoes, we can install the Mistaway System, a long-term mosquito management system. To learn more about our seasonal and year-round mosquito control options, give Modern Pest Control a call today.
Commercial Pest Control In Highland Village, TX
To protect restaurants, hotels, food-processing facilities, healthcare facilities, schools, supermarkets, and other Texas businesses from pests, Modern Pest Control offers tailored pest control services that are performed by experienced and licensed pest control technicians. To guard your business against invasive pests, our technicians first perform a visual inspection of the facility and grounds. They then design a treatment and pest-prevention plan that is unique to your Highland Village facility and property.
Our technicians may recommend addressing sanitation issues or making physical alterations to help pest-proof your facility. We will also install pest-monitoring devices to help detect any active infestations, and develop a treatment strategy that creates long-term results. At Modern we always take into account a business's industry regulations, corporate policies, and facility specifics to provide the most comprehensive protection possible. To learn more about our customized commercial pest control solutions, give us a call today.
Protect Your Highland Village, TX Property From Termite Damage
Protecting your Highland Village home from being invaded by wood-eating termites is important for many reasons, including:
There can be hundreds of thousands or even millions of termites living together in a single termite colony.

Termites typically invade properties, unnoticed, and it is usually only when their damage is observed that an infestation is discovered.

Termites can cause severe damage to the structural integrity of a home they have invaded.

Termites are responsible for costing home and business owners over 5 billion dollars each year across the United States.

Termite damage is not something that is covered by most homeowners' insurance because they view termite damage as preventable.
To prevent termites from invading and damaging your Highland Village home, partner with Modern Pest Control. We recommend preventing and eliminating problems with termites by installing the Sentricon® System with Always Active™. This system is eco-friendly (no chemical are injected into the soil) and non-invasive (no digging or trenching is required). Sentricon® with Always Active™ begins working immediately to eliminate the entire infestation and the bait stations remain in place and are monitored by our professionals to prevent future termite problems. To learn more about our termite control options, give Modern Pest Control a call today.
Do Mice In Highland Village Carry Harmful Diseases?
Mice may seem like a child's pet, however, these very small pests have the possibility of being very harmful to your health. To start, mice and other rodents are oftentimes the hosts of parasitic pests like fleas, ticks, mites, and bed bugs, all of which they can bring into your Highland Village property easily. These pests bring their own array of issues from illnesses like Lyme disease to causing anemia in pets due to blood loss and skin infections in humans. While rodents are scampering around your property, they're busy at work spreading harmful pathogens simply by leaving behind urine, droppings, and saliva. They're responsible for the spread of salmonella and hantavirus, to name a few. Rodent byproducts can also trigger allergies and asthma, as particles from feces, in particular, get spread throughout the air easily.
While mice may seem harmless, they pose a set of big issues for property owners in Highland Village and should be addressed by a professional, rather than trapped by individuals. For more information on how to keep mice and the dangers they cause out of your property, contact Modern Pest Control today.
How To Avoid Tick Bites In Highland Village
Ticks in Highland Village can be a serious problem if you let them, as they're responsible for the spread of illnesses like Lyme disease and Rocky Mountain spotted fever. Here are a few tips for avoiding them in the area:
While spending time outside, opt for long-sleeved shirts and long pants that are light in color.

After being outside, particularly in areas of dense or tall vegetation, always give yourself a thorough tick check-in areas like underneath your armpits, in your hair, and behind your knees.

If you have dogs or cats that spend time outside, consider speaking with your veterinarian about yearly flea and tick prevention. Pets are unfortunately one of the most common offenders for bringing ticks inside the home.

Limit wildlife populations on your property, as they are also known spreaders of ticks and other parasites like fleas and mites.

Contact a professional exterminator for seasonal tick treatments to keep them off of your property.
For more information on preventing ticks and for the safest, most effective protection from them, contact Modern Pest Control today.
Six Tips To Keeping A Healthy Lawn In Highland Village
The benefits of maintaining a healthy lawn in Highland Village go far beyond aesthetics, as it also keeps certain pests away and allows you to enjoy your property fully. Here are six tips to try when this is a priority:
Watch the water. It may be tempting, but aim to not overwater your lawn. Rather, water it less frequently but deeper.

Know when to trim your grass. Each lawn has a different optimal length, and knowing what yours is will be key to maintaining its health.

Remove weeds. While not always looked at as a pest, weeds can be very problematic for any yard. Look to remove present weeds and try not to water them.

Aerate your lawn. This is the process of letting your lawn breathe and it's crucial for allowing grass and soil to relax, particularly after times of heavy use.

Opt for organic fertilizer. Choosing compost or eco-friendly fertilizers allows you to nourish your lawn with minerals like potassium and phosphates.

Contact the professionals. Sometimes the actual health and well-being of the lawn get overlooked when there are effective ways to improve it. With assistance from a lawn expert, you can have a happy yard all year round.
Keep your lawn healthy no matter the season. Contact Modern Pest Control today to learn more about how we can make this your reality with our exclusive 9-step lawn care system!
Ant Prevention: Advice For Highland Village Homeowners
When the ants come marching into your Highland Village home, they can end up taking over. But with a few simple preventive measures, that doesn't have to be the case. To keep your home ant-free, try the following tips:
When storing food, always keep it in sealed containers and make sure they're closed all the way.

Because ants are searching for food and they'll go after it wherever they can, pay special attention to your trash. Always keep it stored in a bin with a lid, avoid letting trash pile up, and check the bin itself for traces of crumbs or spills.

Keep the surfaces in your kitchen free from bits of food like crumbs and spills, cleaning them regularly.

Rectify any areas of excess moisture, looking to leaky showerheads, toilets, downspouts, and faucets in particular.

Fill in the gaps around doors and windows with weather stripping and door sweeps, repair any worn window screens, and fill the crevices around your home's foundation with materials like caulk.
With a little bit of professional assistance from Modern Pest Control, you can get an extra boost of protection with our comprehensive pest control solutions. Contact us today for more information on ant control.

Schedule Your Free Inspection
Complete the form below to schedule your no obligation inspection.