Reliable Pest Control Services For Pearland, TX Home & Business Owners
When critters get into your Pearland home or business, they can be a threat to your health, your belongings, and your equity. We can help you manage those threats by providing ongoing inspections, treatments, and data collection. In every season, your Modern pest professional will make sure your perimeter, landscaping, and yard are protected from Pearland pests. Learn about the plans we offer by taking a look at our residential and commercial pest control pages or contact us today to speak with one of our friendly pest professionals. We'd love to hear from you.
Residential Pest Control in Pearland, TX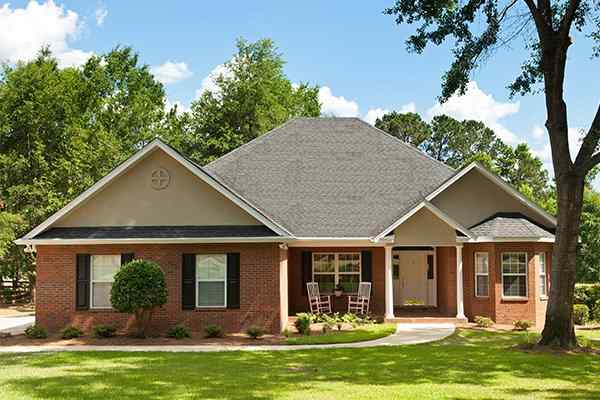 Pests are a year-round problem in Texas. Insects, rodents, and other unwanted creatures can infest your property at any time of year. The best way to keep them out is with year-round residential pest control provided by our professional Pearland exterminators from Modern Pest Control. We offer three effective and affordable home pest control services to help you easily get started. They are Modern Plus, Signature, and Signature Plus.
These services all include:
Quarterly service visits and year-round protection for a wide range of common household pests such as ants, cockroaches, silverfish, crickets, pill bugs, millipedes, earwigs, rodents, and more.

Cobweb removal around your home to prevent spider activity and accidental entry.

An attic inspection to detect rodent activity.

Yard treatments that work to reduce important yard pests like fire ants and fleas.

Our service guarantee. If a pest that is covered by your pest control service pops up in-between visits, we will return to solve the problem at no additional charge to you.
We also offer stand-alone service for specific pests, such as:
Ant Control

Bee Control

Mosquito Control

Rodent and Wildlife Control

Lawn Pest Control
Contact us today to speak with one of our licensed and professional exterminators to set up a residential pest control service for your Pearland, TX home.
Commercial Pest Control Services In Pearland, TX
Modern businesses need modern pest control. We are a local business who pride ourselves in helping other businesses in Pearland, TX thrive. Your choice of Modern Pest as your pest control experts guarantees that:
You'll always have an experienced and highly-trained professional conducting your pest control service.

You'll have fast access to digital pest control data stored online.

You can count on your pest control meeting all regulatory standards for your industry.

We have extensive experience with commercial pest control in Pearland and the greater Houston metropolitan area.

We've been protecting homes, businesses, and properties since 1952.

We customize your commercial pest control service to fit your specific needs.
Don't let Texas pests threaten your Pearland business. We can help you safeguard your reputation, your property, and your health. Reach out to us to schedule a consultation or an onsite inspection.
Flea Prevention Tips For Pearland, TX Residents
When a flea infestation takes root, it can be a nightmare. Fleas will make you repeatedly bathe your pets, wash your bedding, vacuum your floors, and waste money on flea-control products for your pets and your home that just don't seem to work. It is best to avoid a flea infestation in the first place—if you can help it.
These easy to implement tips will help keep fleas out of your home:
Fleas often come in on your pets and your pets are an important host for fleas inside your home. Make sure your dogs and cats have flea collars. While flea collars don't provide complete protection, they're a great place to start.

If you have a dog, and you have not yet constructed a fenced-in play area, we strongly recommend it. Fences reduce wildlife traffic and prevent animals from dropping fleas where your dog plays outside. They also prevent your dog from exploring moist, shaded locations around your home where fleas may be waiting for a host.

Since wildlife and, in particular, rodents, bring fleas into your yard, everything you do to keep wildlife away will help reduce the flea population. Make sure your exterior trash is in sealed receptacles. Keep bird feeders away from your exterior walls to reduce mice that eat the seed on the ground. Reduce lawn clutter to reduce rodent hiding places.
For the best protection possible, let the wildlife and pest control experts here at Modern Pest Control help. We offer services for the control of wildlife and the reduction of fleas. Contact us today; We are here to help.
How to Protect Your Pearland, TX Property From Termites
At Modern Pest Control, we believe the best and most effective way to protect Pearland properties from termites is to install the Sentricon® System with Always Active™. To begin the process, one of our highly-trained experts performs a thorough inspection, looking for signs of termite activity and damage. They then place Sentricon® stations strategically and non-invasively (there is no digging or trenching required) around your property. As soon as the stations are installed, they begin working to quickly and completely eliminate termite colonies. Once the infestation is eliminated, the Sentricon® System with Always Active™ remains in place on your property to monitor for termite activity and prevent future termite problems. Protecting your Pearland property from termites is as easy as picking up the phone and partnering with Modern Pest Control! Reach out to us today.
How Silverfish Get Into Pearland Homes
Silverfish are not to be confused with actual fish, but they get their name from their silvery coloring and slithering fish-like movements. These pests enter Pearland homes primarily because of moisture issues, as they require water in order to survive. If a home is suffering from leaks, humidity imbalances, or water damage, then silverfish are going to do everything they must in order to access it. In their quest for sustenance, silverfish will utilize cracks in a foundation, gaps around doors, openings in bulkheads, and crevices around outdoor electrical sockets, gutters, and other fixtures like hose attachments. While silverfish do not pose an imminent threat to anyone's health, they can eat away at fabrics, furniture, and personal items, while also being unsightly and unwanted visitors.

For the most reliable silverfish control, enlist the help of Modern Pest Control. We work throughout the year to ensure that Pearland homes are kept free of silverfish, particularly because we know how tricky preventing them can be. For more information on the services that we provide, contact us today.
Pearland's Guide To Eliminating Pesky House Flies
Flies are one of those pesky pests that develop in Pearland homes very easily. In order to eliminate and prevent future issues with them, try the following tips:
Take out the trash frequently and always make sure that it's stored in a bin with a tight-fitting lid.

Disinfect counters and floors on a regular basis, paying special attention to food residue.

Clean up after pet accidents, removing any feces completely.

Dispose of any dead flies, as these may attract other flies.

Repair worn window screens and avoid leaving windows without screens open for extended periods of time.

Leave doors open judiciously.

Keep all leftovers covered properly and get rid of any food or fruits that may have gone bad.
Flies don't have to be a part of daily life. At Modern Pest Control, we work to protect Pearland households from flies and their unwanted side effects. Fly control is included in all of the residential programs that we provide and we'll even guarantee the results. With quarterly fly control, they never have to be a problem in your home again. To learn more about these services, contact us today.
Cockroach Control Tips For Pearland Homeowners
Cockroach infestations are worth preventing at all costs. For Pearland homeowners who wish to avoid these issues, try the following tips:
Secure openings. Cockroaches can easily fit through most openings that they find, so apply weather stripping to the gaps around doors, insert door sweeps, replace torn window screens, and fill cracks in the foundation with caulk.

Tend to moisture issues. If a cockroach doesn't have access to water within a week, its fate doesn't look good. Check for water problems regularly and rectify any issues with faucets, pipes, gutters, and other fixtures that might appear.

Be mindful about food. Cockroaches will eat anything, so limit the number of places where food is consumed to limit crumbs, clean up when spills happen, keep food stored in airtight containers, and do the dishes frequently.

Aim for cleanliness. These pests thrive in cluttered environments, so remove old newspapers, take out the trash, and vacuum regularly.

Contact the pros. Cockroaches pose a potential health risk and their infestations are usually much larger than they appear, which is why the best thing homeowners can do is contact their local pest expert.
At Modern Pest Control, we provide cockroach control for every household that needs it. Our methods are applied by QualityPro certified technicians that uphold the highest standard of work and use safe and proven products. To learn more about the benefits of cockroach control, contact us today.
Why Ants Are Hard To Get Rid Of In Pearland
As one of Pearland's most persistent pests, at times, it can feel like ants are everywhere. Once they've entered a home, they can be just as difficult to get rid of. To start, ants are capable of squeezing through very small openings, many of which aren't even visible to the naked eye. This fact makes creating problems very easy but is also a factor in why ants are so tricky to get rid of; if they have no clear way to escape, then they won't. Perhaps more significantly, ants are attracted to sweet and sugary substances, so if they detect anything in a property, then they will invade gladly. Things like piled-up trash, jars that haven't been rinsed, dirty dishes, crumbs, spills, and any other food residue is enough to lure ants. Because ants aren't picky, they will make food out of anything, while also confusing soap and shampoo for food. If a property has leaky pipes, downspouts, gutters, and faucets, ants may also be attracted while having no incentive to leave.
At Modern Pest Control, we include ant control in all of our pest control programs because we appreciate how difficult dealing with ants can be. Our QualityPro certified technicians utilize the highest quality products in order to create ant-free properties. To learn more about ant control, contact us today.

Schedule Your Free Inspection
Complete the form below to schedule your no obligation inspection.