What Types Of Venomous Spiders Are Most Common In Texas?
In Texas, the climate is favorable for many insects including venomous spiders. Read on to learn more about the types of venomous spiders we encounter most in our part of Texas.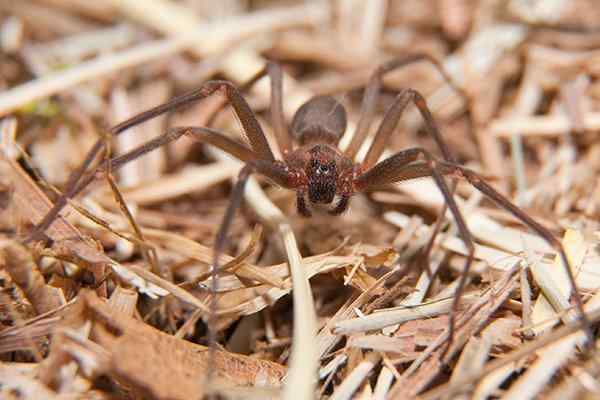 Brown Recluse Spider
Brown recluse spiders are most easily identified by the violin-like shaped pattern that is found on the top of their body. They also have three pairs of eyes that are arranged in a distinctive semi-circle pattern. Brown recluse spiders can range in color from light yellow-gray to a dark brown; young spiders are usually lighter than the adults. Their oblong-shaped abdomen is covered in gray hairs, and their long legs are darker than the rest of their body. They are about the diameter of a quarter - females are larger than the males.
Black Widow Spider
Black widow spiders are shiny black and their bodies are round. Adults grow to be between 1 ½ - 1 3/8 inches in length; females are larger than males. Black widow spiders have a comb foot- a row of strong, curved bristles located on the hind pair of legs that they use to cover their prey in silk with. Black widow spiders have a distinctive red mark located on the underside of the abdomen that is hourglass-like in shape. Black widow spiders can also have lighter red or white spots on their abdomen and back.
Are Venomous Spiders Dangerous?
Yes, venomous spiders are considered to be dangerous. Both black widow spiders and brown recluse spiders have venom that is strong enough to compromise the health of a person. The venom injected from a black widow spider bite affects the nervous system of its victim. Symptoms can come on quickly and include vomiting, difficulty breathing, chills, perspiration, stomach cramps, and other pains. A bite from a black widow spider is usually not life-threatening but does require medical attention so that the symptoms can be correctly managed.
Brown recluse spiders are dangerous but not overly aggressive; bites generally only occur when the spiders are being directly handled or threatened. Symptoms of a brown recluse spider bite include fever, problems sleeping, and the area around the bite swelling and becoming tender. After a few days, the skin around the bite begins to ulcerate. It may take weeks or months to heal, and the bite can result in a disfiguring scar. A bite from a brown recluse spider requires medical attention.
Where Am I Likely To Find Venomous Spiders?
Both brown recluse and black widow spiders living outside can be found in woodpiles, under piles of organic debris, between rocks, and hiding out in sheds, barns, and other outbuildings. Inside a home, they are usually found hiding out in dark, quiet areas like in closets, cabinets, under furniture, and in basements, attics, and crawl spaces.
Does Modern Offer Venomous Spider Control?
At Modern Pest Control, we provide pest control solutions for homes and businesses that include treatment for venomous spiders. When you contact our company for your spider problem, we'll start with a thorough inspection to determine what type of spider is infesting. Based on our findings, we will develop a plan of action that gets rid of spiders! Contact us today for more information about our spider control services in Greater Houston.
How Can I Prevent Venomous Spider Infestations?
Keeping venomous spiders out can be tricky because spiders can enter inside a variety of ways including: through the small cracks and crevices in your foundation, around windows and doors, and around utilities and air-conditioners. Listed below are some helpful tips to help you prevent venomous spider infestations from occurring.
Remove piles of debris from your property.

Keep woodpiles off the ground and place them a distance away from the outside of your home.

Seal cracks in the foundation of your home and caulk gaps around windows, doors, and air-conditioning units.

Install door sweeps on all exterior doors.

Make sure that screens are intact.

Keep outbuilding doors closed when they are not in use.

Limit the places spiders have to hide in your home by keeping storage areas as clutter-free and organized as possible.
Helpful Venomous Spider Articles
The Dangers Of Ignoring Venomous Spiders In Houston
Helpful Tips For Spider Reduction
How Can You Tell If A Spider In Houston Is Venomous?
What Drives Spiders Into Houston Homes?