Reliable Pest Control Services For The Woodlands, TX Home & Business Owners
The Woodlands is a unique Texas community that, as its name suggests is located within a beautiful wooded haven. A planned community, The Woodlands is comprised of many individual villages that are home to their own schools, community centers, shopping centers, exclusive neighborhoods, and more. Living in The Woodlands allows residents to have the best when it comes to career opportunities, housing options, and family life. To help maintain a healthy environment in your The Woodlands home or business, partner with the local pest control experts at Modern Pest Control, our professionals can help to keep potentially harmful Texas pests away from your property. Get in contact with us today to learn how our highly trained and educated professionals and our innovative and modern pest control services can help to uphold a pest-free environment in your The Woodlands residential or commercial property!
Residential Pest Control In The Woodlands, TX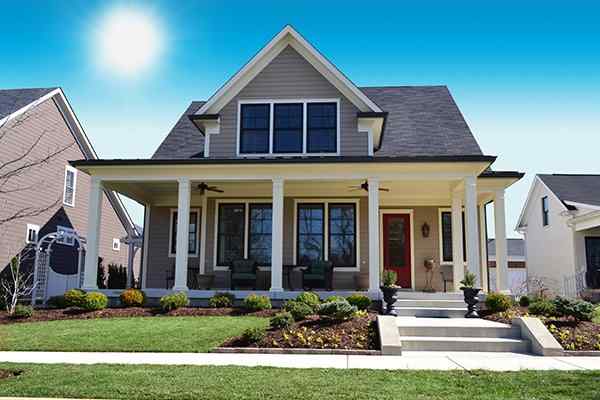 To solve the problem of not knowing when and where pests are going to invade your home to damage its structure, contaminate food sources, and just, in general, be a nuisance for you and your family, put into place a year-round pest control plan from the experts at Modern Pest Control.
The weather in Texas allows most pest species to be active year-round, this means that your pest control services also need to be active year-round to combat pests and prevent them from being able to gain access to your home. To control pest all year-long Modern offers our customer three different (guaranteed) residential pest control services to choose from; allowing you to get the exact pest coverage you need and want.
Modern's Residential Pest Control Services Include:
Modern Plus Service - This service offers effective pest control services through quarterly pest visits.

Signature Service - This service offers effective pest control services through quarterly pest visits in addition to effective termite control.

Signature Plus Service - This service offers pest control services through quarterly visits, termite control, plus the addition of seasonal mosquito control. This is our most comprehensive solution to pest problems.
To learn more about any of our year-round residential pest control services, give us a call today!
Mosquito Control Options For The Woodlands, TX Residents
With the help of the professionals at Modern Pest Control, you can finally take back your property's backyard from annoying Texas mosquitoes. We offer a wide range of mosquito control options to ensure that you get the services you need to reduce mosquito populations on your The Woodlands, TX property. With our help, you will once again be able to enjoy your outdoor space with family and friends without the threat of being under attack by disease spreading, biting mosquitoes.
Modern's mosquito control options include:
Seasonal Mosquito Protection - Throughout the spring and summer seasons our technicians perform regular treatments to reduce the numbers of adult mosquitoes living and resting on your property, this treatment also works to help prevent new larvae from hatching.

Mosquito Misting System - Through the installation of the automatic CoastalMister, Modern Pest Control can provide our residents with year-round, long-term control against mosquito populations on The Woodlands properties.

One-Time Mosquito Treatment - Our one-time mosquito treatment is a great option if you want to reduce mosquito activity before a large outdoor event like a family reunion or wedding.
Contact us today to get started taking back your The Woodlands, TX property from mosquitoes!
Commercial Pest Control Services In The Woodlands, TX
Through inspections, modern treatment, physical alterations, monitoring stations, and more, our highly trained professionals will ensure that your business becomes and stays free of The Woodlands pests. Our services offer what is needed to provide a barrier of protection protecting your customers, employees, product, facility, and reputation from nuisance and dangerous pests.
Our commercial pest control services are customized to fit your The Woodlands facility's unique needs. We always begin with a thorough inspection and then may recommend based on our findings the following: increasing sanitation practices in and around your facility, making physical changes to your facility to help keep pests out, installing pest monitoring devices, and/or the development of a long-term treatment strategy.
Examples of industries that we provide long-term solutions for pest problems include:
Restaurants

Hotels

Food Processing Facilities

Schools

Healthcare Facilities

Grocery Stores

And more!
Protect Your The Woodlands, TX Property From Termites
When it comes to protecting your The Woodlands property from wood-eating termites being proactive is key. If you wait until you see signs of their presence in your home, you are going to be too late, and the termites have most likely already caused major damages to your home.
To protect your The Woodlands property from these highly dangerous pests we offer the following termite control services:
Inspection

Sentricon installation

Ongoing termite protection
At Modern Pest Control we use and highly recommend installing the eco-sound Sentricon® System with Always Active™ to eliminate current termite populations and prevent future populations from being able to establish themselves on your property or in your home. Once discreetly and non-invasively installed, Sentricon® with Always Active™ stations begin working to quickly and completely eliminate the entire termite colony. Once the infestation is eliminated Sentricon® with Always Active™ remains in place on your property to monitor for future activity and to prevent future problems with termites.
Contact Modern Pest Control today to learn more about protecting your The Woodlands home from termites with the help of our highly trained professionals and the installation of Sentricon® with Always Active™.
Six Crucial Steps For Getting Rid Of Ants In The Woodlands
Ant pest control is crucial for homeowners here in The Woodlands as there are many different types of ants here that can invade your home and yard. While help from a professional technician at Modern Pest Control is the most effective way to get rid of ants permanently, below are six ways you can prevent them from showing up in the first place:
Seal up holes: The first step is to locate any gaps around your property. No matter how small they are, seal them up.

Properly store food: One of the most effective forms of ant control in your home is to properly store your food in containers that ants can't chew through. Ants invade pantries that offer easily accessible food, so remove access to these items.

Clean up messes: Clean up food spills in your home, especially from meaty or sweet foods and drinks, as ants are particularly attracted to these food sources.

Clean up your yard: Ant control in your yard is just as crucial as ant control in your home. Because ants like to build nests in organic debris such as logs and stumps, it is helpful to regularly clean up your yard and remove these objects.

Remove ant trails: Ants follow where other ants have gone using their sense of smell. By identifying where a troop of ants has been, you can wipe the area down and remove the scent to keep other ants from following.

Call a professional: Ultimately, the most effective ant pest control comes from a professional.
At Modern Pest Control, our technicians have the tools and training required to root out all ant infestations and permanently exterminate them from your home or yard. If you want to get back to enjoying your living space ant-free, give us a call today!
The Dangers Cockroaches Bring To Your The Woodlands House
Cockroaches are one of the most challenging pests to eradicate. They are resilient to most over-the-counter treatments and tools, and their exoskeleton is difficult to crush. A cockroach infestation is not just obnoxious to deal with either as these pests pose health risks. Below are some of the diseases cockroaches can spread to humans:
Salmonella: This is a devastating gastrointestinal disease that can last up to a week. Because roaches themselves are so resilient, it should come as no surprise to learn that the strains of salmonella they pass onto humans are also resilient and resistant to regular salmonella treatments.

Listeria: One of the most severe and dangerous forms of food poisoning, cockroaches quickly spread listeria by scuttling over your eating utensils, food preparation containers, and high-touch surfaces.

E. Coli: Another severe gastrointestinal disease, this illness is contracted through exposure to cockroach feces that build ups everywhere in your home when you have a cockroach infestation.
At Modern Pest Control, we use the most advanced and effective treatments and tools available on the professional market to exterminate cockroaches permanently.
Don't wait until the problem gets worse or for someone in your household to suffer from one of these devastating illnesses. Instead, give us a call today for comprehensive, professional cockroach removal.
The Truth About House Flies In Your The Woodlands House
There could be several reasons you see more flies around your The Woodlands home than before. While there are several types of flies, the truth is that they are all attracted to virtually the same things. If these factors are present in your home, they are likely the reason for your fly problem:
Easy access to garbage: Your garbage cans are highly appealing to different types of flies, and leaving your bins uncovered attracts swarms of these pests.

Fermenting fruit: Whether you have rotting fruit in your kitchen, yard, or trash cans, these are also very appealing to flies, specifically fruit flies.

Pet feces or manure: If you are not cleaning your yard of pet feces and other waste, you will find more flies around your home.

Rotting animal carcasses: Unfortunately, if an animal dies on your property, you will find more flies hanging around.
An expert technician at Modern Pest Control can help you identify the things in your home and yard attracting flies and develop an attack plan specific to your situation. If you are tired of the flies on your property and in your kitchen, give us a call today!
Why Rodents Are A Serious Concern In The Woodlands
Whether it's squirrels, mice, or rats, having rodents on your The Woodlands property is just as dangerous as having cockroaches. Below are some reasons why you should call a professional to help with rodents in your home:
Salmonella: If rodents are running across your countertops or where you store and prepare food, they could spread harmful bacteria that cause salmonella.

Hantavirus: This illness spreads rodent urine and feces turn to dust, releasing particles into the air. If you breathe these pathogens in, you can contract this virus. Symptoms of hantavirus include fever, chills, and aches and pains. If left untreated, hantavirus causes severe shortness of breath and progresses to kidney failure.

Lymphocytic Choriomeningitis (LCMV): This infection can cause severe neurological problems in humans, and you can contract it by being exposed to rodent droppings, urine, saliva, or nesting materials.
Because you don't have to be scratched or bitten by a rodent to contract a harmful illness, it's essential to seek professional help to exterminate these hard-to-kill pests and help sanitize afterward. At Modern Pest Control, we offer complete rodent control to ensure you and your family are safe from these diseases. Give us a call today for help with your rodent problems!
The Secret To Ridding Your The Woodlands Home Of Armyworms
If you're one of the many homeowners in The Woodlands who deal with armyworms on a yearly basis, then you're probably looking for a solution that you can finally trust. At Modern Pest Control, we have the answers. Our company has been providing armyworm control to local homeowners since our inception in 1952. Today, we honor our vast experience and look toward the future, with cutting-edge technology.
Because armyworms are a yearly issue, we treat them with Integrated Pest Management methods. This system focuses on addressing the root cause of a pest problem to keep it from returning. It also ensures the safest and most sustainable solution for pest control issues. Because we are residential pest control and lawn control experts, we have the tools that are necessary to treat this primarily outside pest. By working with us, we'll ensure that your lawn is properly irrigated, aerated, watered, and fertilized. All of these factors are absolutely necessary to keep armyworms away. For more information on our armyworm control services, please call us today.
How To Keep Chinch Bugs Out Of Your The Woodlands Home
Chinch bugs are some of the most unique-looking pests in The Woodlands, and once they make their way to your home, they can decimate your entire yard very quickly. Many times people mistake their damage for drought, fungus, or other lawn problems without knowing the real source. At Modern Pest Control, we help you avoid further chinch bug complications with our top-quality lawn control services.
By providing a complete inspection, we can become intimately familiar with your lawn and its nuances. This phase will also help us understand if chinch bugs are present. If we locate chinch bugs, we will treat the immediate area that they've invaded as well as your entire lawn to stop their spread. We offer a variety of lawn services that are helpful in preventing new issues as well. If we're able to monitor your lawn on a routine basis and provide it with the correct levels of nitrogen, water, and other factors, then we can keep chinch bugs away in the future. For more information on chinch bug control, call us today.
What To Do About Dangerous Wildlife On Your The Woodlands Property
Wildlife can be very unpredictable and potentially harmful when they make themselves at home on your property. The best decision you can make is to work with Modern Pest Control for wildlife control in The Woodlands. Our company has been working with residents for more than 65 years, but we never rest on our laurels. We are committed to growing and always implementing the safest methods and cutting-edge techniques. Before you begin working with us, it's also important that you know that we are QualityPro certified and abide by Integrated Pest Management protocols. This means that we uphold the highest safety standards in the industry and all of our methods are humane to animals and safe for people.
To start, we'll perform a detailed inspection of your property to understand the scope of wildlife presence. We'll also talk with you about your concerns and what you've seen. We then move into the phase where we set live traps and one-way exit doors. These tools simply redirect wildlife off of your property. Next, we install exclusion to keep wildlife from returning and we also provide tips on prevention for you. For more information on The Woodlands wildlife control for your property, please call us today.
Keeping Centipedes & Millipedes Out Of Your The Woodlands Home
Centipedes and millipedes are two very common invaders that can end up in your home in The Woodlands. In order to deter them, try the following tips:
Start with the yard. For pests like millipedes, the clutter in your yard can actually be very enticing. In order to make your property unappealing, start by clearing away fallen leaves and branches, as well as any rotting fruit or vegetables.

Look for openings. To actually keep centipedes and millipedes out of your home, be diligent about filling any openings that you see with silicone-based caulk. Look at areas like door frames and foundations. You may also want to affix weatherstripping to your doors and windows.

Rectify moisture build-up. Both of these pests thrive in moist conditions, so keep crawl spaces ventilated and use dehumidifiers where they are needed.

Work with a pro. While these are nuisance pests, they are very tough to prevent. Try working with a pest company for year-round centipede and millipede control in The Woodlands.
At Modern Pest Control, we know that millipedes and centipedes are two frequent problems for local homeowners. We also know that keeping them out of your home can be a challenge, which is why we include coverage for them in all of our residential pest control plans. By following the guidelines of Integrated Pest Management and delivering high-quality services throughout the year, we're able to rid your home of these pests. For more information on centipede and millipede prevention, please call us today.

Schedule Your Free Inspection
Complete the form below to schedule your no obligation inspection.